Peter Darling by Austin Chant (Book Review)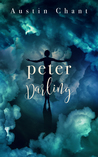 Peter Darling by Austin Chant
My rating: 2 of 5 stars
One thing I noticed and appreciated immediately was the high quality writing. The author, Austin Chant has a beautiful, poetic prose style that's really awesome to read. The way he describes surroundings and emotions is impressive; I enjoyed his writing style very much.
What didn't work for me was the story structure and relationship aspects between Peter and James (Captain Hook). The story moved much slower for me than I prefer. Painfully slow at parts. The sensual relationship between Pan and Hook was much too modest and simple for my preference. I prefer more explicit descriptions. Although those who aren't into that would appreciate this books modesty.
Also Peter was described very handsomely, but Hook seemed peculiar so the coupling didn't match up well for me in my mind. The age difference didn't bother me at all, they are both adults – it's the attractiveness of one versus the other that was too broad for me to feel comfortable with in my imagination.
This book is well written enough and modest (in its sensual scenes) enough that I would recommend it to a open minded middle, high school and college literature course. A great book for a class discussion. Not what I'd recommend to a friend for pleasure reading though.
One thing that struck me about this book, is it's premise – wow! A love story between Peter Pan and Captain Hook, plus with the queer centric twist regarding Pan is very creative and interesting. I would have preferred this premise implemented differently – with less slow drama and much more frequent action, adventure, and passion.
Overall I just can't get over the beautiful prose Austin Chant has created in this story. The writing is beautiful and I'm curious about any quicker paced stories he may have in his booklist. Although not the best fit for my taste, he has a style that I think a lot of people will really appreciate.
Thank you for visiting my blog. Your joining my tribe of readers means so much to me! The best ways to support me in making the world a better place and giving reprieve and joy to those who need it most through my writing is:
I appreciate you! Stay in touch